Tyr Hat & Mitts Giveaway January 10, 2020 16:22 2 Comments
I'm really excited to be wrapping up the finishing touches on the Tyr Hat and Mitten patterns. They've been a LONG time coming. I've had to knit them twice. The first set was supposed to be published by another publisher, but fate would have it that they (along with many other garments in the issue) got lost in shipping—a designers worst nightmare. I imagine it was this publishers worst nightmare as well. Soon after, they decided to close their doors, after over 10 years of publishing quality patterns. And I moved on, focusing on other things for awhile.
Until this past Autumn, when I felt the inspiration to knit them again—which rarely happens. I never knit things twice. But these… these are just so worth it. I just couldn't let them go off into the ether, considering the pattern was done.
The cuffs of the mittens and the brim of the hat are worked in 1x1 ribbing, which has a really great hug. To make the cast-on edge the best possible edge—to match the friendly squeeze of the ribbing—I opted to use the tubular cast-on. Which, if you've never done, never fear! I've also linked to a photo tutorial from my blog, to help make it more clear. The patterns also include written and charted instructions for the cable patterns.
Pattern Release Date
These patterns will be available to my Patreon subscribers on Monday, January 13, 2020. If you absolutely can't wait to get these patterns, check out the membership options on my Patreon page.
For everyone who's not subscribed to my Patreon, the pattern will be out a week later—January 20, 2020—the same day that the giveaway winner is selected.
If you're not already on my email newsletter, sign up to be notified when the pattern's available to the public.
In anticipation of the release of these patterns, Green Mountain Spinnery and I have teamed up to give one lucky knitter a free copy of each of the Hat and Mittens patterns PLUS 2 skeins of the Mountain Mohair yarn in the Spice color, so they may knit themselves a set to match the ones I've made (twice)!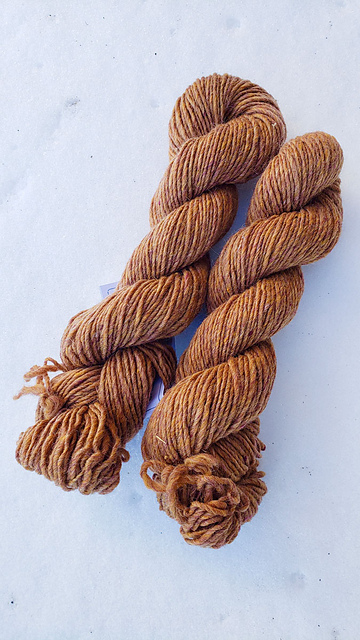 To enter the giveaway:
Visit this post on my Instagram page, like and comment on the image. Just be sure you're following both me (@kristentendyke) and @greenmtnspinnery. It's super simple to enter! Bonus points if you repost the image to your Instagram feed or stories.
Entries close on January 19, 2020 at 11:59 pm EST, and the winner will be selected randomly on January 20, 2020! See the post on Instagram for all the other details!
Good luck!
~Kristen :)